KOMPETENZEN
/
Innovation
/
Abfallschlämme
EXPERTISE
/
Innovation
/
drilling sludges
Recycling von Metall- & Bohrschlämmen
Recycling of metal and drilling sludges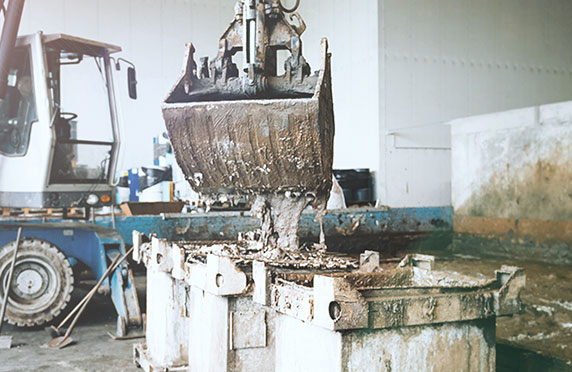 CRONIMET ENVIROTEC – die optimale Lösung für die Verwertung Ihrer Metallweichschrotte, Bohrschlämme & Katalysatoren.
Unsere Vakuum-Destillationsanlage in Bitterfeld-Wolfen ist die weltweit erste Anlage zur Aufbereitung von öl- und metallhaltigen Schlämmen. Das patentierte Verfahren ermöglicht eine umweltschonende Separation von Stoffen ohne chemische Veränderung. Kontaminationen werden rückstandlos entfernt – bei gleichbleibender Qualität.
Mit einer Kapazität von 20.000 Tonnen pro Jahr werden Schleifemulsionen, Öle und andere Substanzen von Feststoffen, wie beispielsweise Metallen, separiert. Neben Bohr- und Metallschlämmen werden auch gesättigte Katalysatoren recycelt.
Dabei haben wir es uns zur Aufgabe gemacht, Ressourcen effizient zu verwerten und diese dann anschließend in den Markt zurückzuführen. So werden Nachhaltigkeit und Wirtschaftlichkeit optimal vereint.
NACHHALTIG. INNOVATIV. ZERTIFIZIERT.
Nähere Informationen zur Aufbereitung Ihrer Metall- und Bohrschlämme finden Sie unter www.cronimet-envirotec.de.
CRONIMET ENVIROTEC – the optimal solution to recycle your metal soft scrap, contaminated spent catalysts & drilling muds.
Our vacuum distillation plant in Bitterfeld-Wolfen is the first plant worldwide for processing oil- and metal-containing sludges. The patented process enables the environmentally friendly separation of substances without chemical modification. Contaminations are removed without residue – with constant quality.
With a capacity of 20,000 tons per year grinding emulsions, oil and other contaminants are separated from solids, such as metal. In addition to drilling and metal sludges , saturated catalysts can also be recycled.
We have set ourselves the task of efficiently utilising resources and then returning them to the market. In this way, sustainability and economy are optimally combined.
SUSTAINABLE. INNOVATIVE. CERTIFIED.
Further information on the treatment of your metal and drilling muds can be found at www.cronimet-envirotec.de.