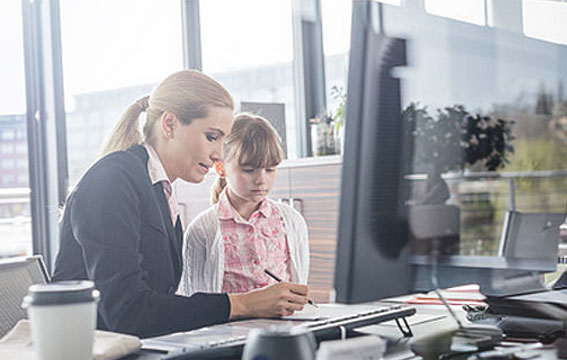 Betriebliche Altersvorsorge, Eltern-Kind-Büro und Betriebssport – wir wissen das Engagement unserer Mitarbeiter sehr zu schätzen und bieten Ihnen daher neben einer attraktiven Vergütung und vielfältigen Entwicklungsperspektiven eine Vielzahl weiterer Leistungen.
Neben attraktiven Angeboten zur privaten Krankenzusatz- und Berufsunfähigkeitsversicherung, bieten wir auch eine exzellente betriebliche Altersvorsorge an.
Bereits heute profitieren unsere Mitarbeiterinnen und Mitarbeiter vom Zuschuss zur Kinderbetreuung und haben gleichzeitig die Möglichkeit, das Eltern-Kind-Büro an unserem Hauptsitz zu nutzen. Zudem erleichtern Warm- und Kaltgetränke und unsere leckere Cafeteria den Arbeitsalltag. Aber auch außerhalb der Arbeitszeiten profitieren unsere Mitarbeiterinnen und Mitarbeiter von Mitarbeiterangeboten und regelmäßigen Sommer- und Weihnachtsfesten in Karlsruhe.
Company pension schemes, parent-child office and company sports – we greatly appreciate the commitment of our employees and therefore offer you a wide range of additional benefits in addition to attractive remuneration and varied development prospects.
In addition to attractive offers for private supplementary health and occupational disability insurance, we also offer an excellent company pension scheme.
Our employees already benefit from the childcare allowance and also have the opportunity to use the parent-child office at our headquarters. In addition, hot and cold drinks and the tasty meals and snacks in our cafeteria make everyday work easier. Our employees also benefit from employee offers and regular summer and Christmas celebrations in Karlsruhe outside working hours.